List of the 10 best movies starring Brad Pitt, order based on the average from the IMDB, TMDB and Rotten Tomatoes ratings
Role in movie: Mickey O'Neil
T
he second film from British director Guy Ritchie. Snatch tells an obscure story similar to his first fast-paced crazy character-colliding filled film "Lock, Stock & Two Smoking Barrels." There are two overlapping stories here – one is the search for a stolen diamond, and the other about a boxing promoter who's having trouble with a psychotic gangster.
View page
Trailer
Watch online
W
hilst on a short weekend getaway, Louise shoots a man who had tried to rape Thelma. Due to the incriminating circumstances, they make a run for it and thus a cross country chase ensues for the two fugitives. Along the way, both women rediscover the strength of their friendship and surprising aspects of their personalities and self-strengths in the trying times.
View page
Trailer
Watch online
Role in movie: Billy Beane
T
he story of Oakland Athletics general manager Billy Beane's successful attempt to put together a baseball team on a budget, by employing computer-generated analysis to draft his players.
View page
Trailer
Watch online
C
larence marries hooker Alabama, steals cocaine from her pimp, and tries to sell it in Hollywood, while the owners of the coke try to reclaim it.
View page
Trailer
Watch online
Role in movie: Jeffrey Goines
I
n the year 2035, convict James Cole (Bruce Willis) reluctantly volunteers to be sent back in time to discover the origin of a deadly virus that wiped out nearly all of the earth's population and forced the survivors into underground communities. But when Cole is mistakenly sent to 1990 instead of 1996, he's arrested and locked up in a mental hospital. There he meets psychiatrist Dr. Kathryn Railly (Madeleine Stowe), and patient Jeffrey Goines (Brad Pitt), the son of a famous virus expert, who may hold the key to the mysterious rogue group, the Army of the 12 Monkeys, thought to be responsible for unleashing the killer disease.
View page
Trailer
Watch online
Role in movie: Ben Rickert
Role in movie: LT. Aldo Raine
I
n Nazi-occupied France during World War II, a group of Jewish-American soldiers known as "The Basterds" are chosen specifically to spread fear throughout the Third Reich by scalping and brutally killing Nazis. The Basterds, lead by Lt. Aldo Raine soon cross paths with a French-Jewish teenage girl who runs a movie theater in Paris which is targeted by the soldiers.
View page
Trailer
Role in movie: Detective David Mills
T
wo homicide detectives are on a desperate hunt for a serial killer whose crimes are based on the "seven deadly sins" in this dark and haunting film that takes viewers from the tortured remains of one victim to the next. The seasoned Det. Sommerset researches each sin in an effort to get inside the killer's mind, while his novice partner, Mills, scoffs at his efforts to unravel the case.
View page
Trailer
Watch online
Role in movie: Samuel Bass
I
n the pre-Civil War United States, Solomon Northup, a free black man from upstate New York, is abducted and sold into slavery. Facing cruelty as well as unexpected kindnesses Solomon struggles not only to stay alive, but to retain his dignity. In the twelfth year of his unforgettable odyssey, Solomon's chance meeting with a Canadian abolitionist will forever alter his life.
View page
Trailer
Watch online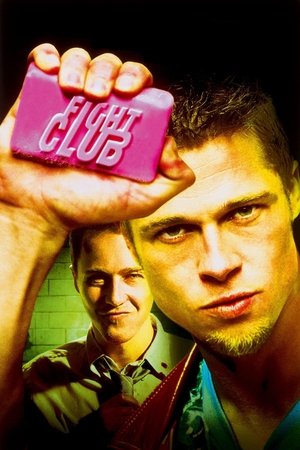 Role in movie: Tyler Durden
A
ticking-time-bomb insomniac and a slippery soap salesman channel primal male aggression into a shocking new form of therapy. Their concept catches on, with underground "fight clubs" forming in every town, until an eccentric gets in the way and ignites an out-of-control spiral toward oblivion.
View page
Trailer
Watch online
William Bradley "Brad" Pitt (born December 18, 1963) is an American actor and film producer. Pitt has received two Academy Award nominations and four Golden Globe Award nominations, winning one. He has been described as one of the world's most attractive men, a label for which he has received substantial media attention. Pitt began his acting career with television guest appearances, including a role on the CBS prime-time soap opera Dallas in 1987. He later gained recognition as the cowboy hitchhiker who seduces Geena Davis's character in the 1991 road movie Thelma & Louise. Pitt's first leading roles in big-budget productions came with A River Runs Through It (1992) and Interview with the Vampire (1994). He was cast opposite Anthony Hopkins in the 1994 drama Legends of the Fall, which earned him his first Golden Globe nomination. In 1995 he gave critically acclaimed performances in the crime thriller Seven and the science fiction film 12 Monkeys, the latter securing him a Golden Globe Award for Best Supporting Actor and an Academy Award nomination. Four years later, in 1999, Pitt starred in the cult hit Fight Club. He then starred in the major international hit as Rusty Ryan in Ocean's Eleven (2001) and its sequels, Ocean's Twelve (2004) and Ocean's Thirteen (2007). His greatest commercial successes have been Troy (2004) and Mr. & Mrs. Smith (2005). Pitt received his second Academy Award nomination for his title role performance in the 2008 film The Curious Case of Benjamin Button. Following a high-profile relationship with actress Gwyneth Paltrow, Pitt was married to actress Jennifer Aniston for five years. Pitt lives with actress Angelina Jolie in a relationship that has generated wide publicity. He and Jolie have six children—Maddox, Pax, Zahara, Shiloh, Knox, and Vivienne. Since beginning his relationship with Jolie, he has become increasingly involved in social issues both in the United States and internationally. Pitt owns a production company named Plan B Entertainment, whose productions include the 2007 Academy Award winning Best Picture, The Departed. Description above from the Wikipedia article Brad Pitt, licensed under CC-BY-SA, full list of contributors on Wikipedia.
View page with full filmography
Related articles