List of the 10 best rated episodes from the TV show The Boondocks from the 48 listed on our webite. Order based on the average from the IMDB and TMDB ratings
G
randdad, Huey, Riley and Jazmine must avoid guards after they sneak in to a theatre to watch Soul Plane 2: The Blackjacking.
View page
Watch online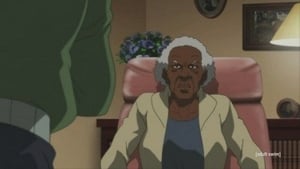 O
n a final visit to Woodcrest, Ruckus's terminally ill Nana wants to die in Robert Freeman's house.
View page
Watch online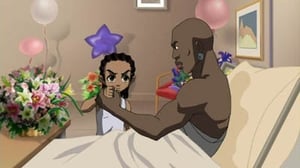 R
iley's favorite rapper, Gangstalicious, is shot and hospitalized in Woodcrest. When Riley goes to visit the rapper, he finds more than he anticipated ... like maybe rappers that make songs like "Thuggin' Luv" aren't necessarily as tough as they seem. Go figure.
View page
Watch online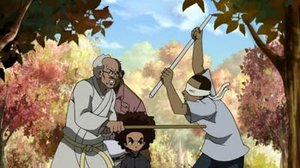 G
randad and Colonel Stinkmeaner have a beef. One man's blind. One man's feeble. Both are really, really old. Let "The Slugfest In Woodcrest" commence!
View page
Watch online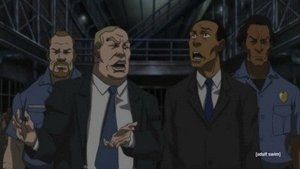 H
aving conquered his fear of prison rape, Tom volunteers to lead Huey, Riley, and some classmates on a trip to jail as part of a Scared Stiff program. But when a riot breaks out, Tom has to get the kids, and his delicate backside, out of jail in one piece.
View page
Watch online
A
fter a checkup, a doctor warns Granddad that he could die any day if he doesn't get his stress levels down. Not wanting to become dependent on pills, he decides to take Thugnificent's suggestion and turns to marijuana.
View page
Watch online
T
he Freemans are in trouble when Stinkmeaner's gang decide to come after them in retaliation for his death
View page
Watch online
D
istrict Attorney and law-abiding citizen Tom Dubois fits the description of the elusive "X-Box Killer" and is arrested. Huey has to find the real killer before Tom is shipped off to "real" prison where he will most assuredly become "someone's girlfriend."
View page
Watch online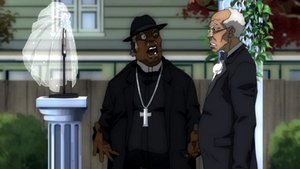 W
hen Martin Luther King Jr. comes out of a coma after 32 years and finds himself thrust into the 21st and life in the post "September 11th" lunacy, his "turn the other cheek" philosophy quickly takes him from beloved national hero to dispised terrorist sympathizer.
View page
Watch online
The Boondocks is an American adult animated sitcom on Cartoon Network's late night programming block, Adult Swim. The series premiered on November 6, 2005 and was created by Aaron McGruder, based upon McGruder's comic strip of the same name. The show begins with an African-American family, the Freemans, having moved from the South Side of Chicago, Illinois to the fictional, peaceful and mostly white suburb of Woodcrest. The perspective offered by this mixture of cultures, lifestyles, socioeconomic classes, stereotypes, and races provides for much of the comedy and conflict in this series. There have been a total of 45 episodes over the course of the shows first three seasons. The two part season two finale "The Hunger Strike" and "The Uncle Ruckus Reality Show" was never aired on American television as Adult Swim feared legal actions against them from BET. Both episodes were aired on Teletoon and were released on DVD in the United States. The season three episodes "Pause" and "The Story of Jimmy Rebel" have been pulled from general episode rotation following the television debuts and no longer appear in reruns. A fourth season containing twenty episodes has been announced to air in January 2014.
Related articles