List of the 10 best movies starring Robert Dalban, order based on the average from the IMDB, TMDB and Rotten Tomatoes ratings
Role in movie: Le technicien
W
hen the boss' unlucky daughter is missing in South America, Campana is sent to watch the boss' most unlucky employee who is sent as a private detective in hopes he can duplicate the daughter's mistakes.
View page
Watch online
A
French agent goes after a gang of Asian terrorists who plan to blow up an American nuclear aircraft carrier.
View page
Watch online
M
aking his directorial debut, Robert Hossein also assumes the leading role, playing an escaped convict. Hossein and his fellow escapees cross the path of Marina Vlady, with whom they all fall in love. Alas for our "heroes," Vlady intends to avenge the death of her sweetheart at the hands of Hossein and his confreres. Not only do these heels go to Hell, but they do so with a spectacular flourish. Les Salauds Vont en Enfer was adapted by Rene Wheeler from a play by Frederic Dard.
View page
Watch online
I
n 1943, a German commando conceals a large quantity of gold in an undersea cave on the coast of Corsica. Years later, Schlumpf, the sole survivor of the commando, returns to Corsica to recuperate the treasure -- with British and Soviet spies on his heels, and closely monitored by Dromard, from the French intelligence services. The monocled Dromard is convinced that he can outfox his opponents, but difficulties accumulate: despite his plump appearance, Herr Schlumpf is a sly fellow; Corsica is teeming with treasure hunters from various nationalities; and all parties readily resort to unnatural alliances, brazen treachery, and strong-arm tactics. Who will get the treasure?
View page
Watch online
I
n the second episode of the trilogy Fantômas kidnaps distinguished scientist professor Marchand with the aim to develop a super weapon that will enable him to menace the world. Fantômas is also planning to abduct a second scientist, professor Lefebvre.
View page
Trailer
Watch online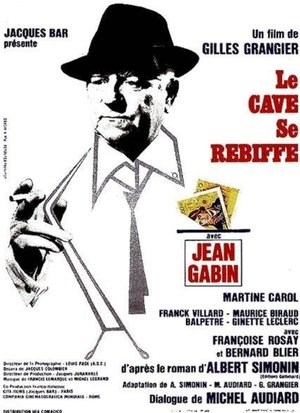 Role in movie: l'inspecteur Maffeux, de la brigade des mœurs
L
e journaliste Fandor invente une interview avec le mystérieux Fantomas. Fantomas s'indigne et enlève le journaliste pour le contraindre à dire la vérité et comme Fandor ne fait pas cela, il se déguise en Fandor et avec son visage il réalise un sensationnel vol de bijoux. Le Commissaire Juve arrête Fandor, croyant qu'il est Fantomas, mais il est à son tour arrêté quand Fantomas fait un autre coup, cette fois-ci déguisé en Juve. Mais les deux sont libérés par Fantomas lui-même. Le célèbre voleur n'a-t-il pas une raison cachée pour son acte de générosité ?
View page
Trailer
Watch online
Role in movie: le faux livreur
H
apless orchestra player becomes an unwitting pawn of rival factions within the French secret service after he is chosen as a decoy by being identified as a super secret agent.
View page
Watch online
Role in movie: Jean, le majordome
A
n aging gangster, Fernand Naudin is hoping for a quiet retirement when he suddenly inherits a fortune from an old friend, a former gangster supremo known as the Mexican. If he is ambivalent about his new found wealth, Fernand is positively nonplussed to discover that he has also inherited his benefactor's daughter, Patricia. Unfortunately, not only does Fernand have to put up with the thoroughly modern Patricia and her nauseating boyfriend, but he also had to contend with the Mexican's trigger-happy former employees, who are determined to make a claim.
View page
Watch online
Role in movie: The Inspector
Fils de Louis Auguste Barré (1873-1951), d'abord clerc de notaire puis boucher, et de Marie Léontine Moreau (1868-1951), couturière. Robert Dalban débute dès l'âge de 16 ans au théâtre Montparnasse aux côtés de Harry-Max et Maurice Dorléac. Sous le pseudonyme de R.Q., il est aussi comique troupier au caf'conc' Les Trois Mousquetaires. Avant un départ en tournée aux États-Unis avec Sarah Bernhardt aux débuts des années 1920, il jouera dans de nombreux théâtres de quartier. On le retrouvera dans des opérettes et des revues au cours des années 1930. Il jouera plusieurs fois avecGaby Morlay, qui le poussera vers le cinéma, où il débute en 1934. En 1940, il épouse la comédienne Madeleine Robinson, avec laquelle il aura un fils, Jean-François, né en 1941. Le couple divorce en 1946. En 1950, il est choisi sur casting organisé par la M.G.M. pour prêter sa voix à Clark Gable dans la version française de la super-production de David O. Selznick Autant en emporte le vent. En 1955, il rencontre Robert Hossein et tourne dans Les salauds vont en enfer. Ce sera le début d'une grande amitié entre les deux hommes. Robert Dalban a interprété, entre autres, un ancien camarade de la Résistance de Marie-Octobre (interprétée parDanielle Darrieux) dans Marie-Octobre (1959) et le père de Manette (Claude Jade) dans Mon oncle Benjamin (1969) d'Édouard Molinaro. Mais c'est le tonitruant « Yes, sir ! » de son personnage du majordome Jean dans Les Tontons flingueurs de Georges Lautner qui marque durablement les esprits. Il tournera pas moins de onze films avec ce dernier. Il campe avec une égale conviction les rôles de truands et ceux de policiers. En 1982, il interprète le rôle principal du téléfilm Jules et Juju. Il meurt d'une crise cardiaque dans un mythique restaurant de la rue de Berri, alors que, dînant avec des amis, on vient de déposer sur la table un énorme plateau de fruits de mer le 3 avril 1987. Il est enterré au cimetière deJouars-Pontchartrain, dans les Yvelines.
View page with full filmography
Related articles