List of the 10 best movies starring Elias Koteas, order based on the average from the IMDB, TMDB and Rotten Tomatoes ratings
A
n uptight insurance man and his film-censor wife become a kinky couple's landlords.
View page
Watch online
Role in movie: Ronald Blatt
A
n attractive but depressed young man moves back in with his parents following a recent heartbreak. An aspiring photographer, Leonard works part-time at his father's dry-cleaners. One night Leonard looks out his bedroom window and notices a ravishing young woman who recently moved into an apartment in his family's building, paid for by the wealthy married man she's seeing.
View page
Trailer
Watch online
Role in movie: Arthur Ouimet
T
he Greatest Game Ever Played is a 2005 biographical sports film based on the life of 20 year old Francis Ouimet who defeated his idol,1900 US Open Champion, Harry Vardon. The film is directed by Bill Paxton; Shia LaBeouf plays the role of Ouimet. It is distributed by Walt Disney Studios. The film' screenplay was adapted by Mark Frost from his book, The Greatest Game Ever Played: Harry Vardon, Francis Ouimet, and the Birth of Modern Golf. It was shot in Montreal, Quebec.The film opened at #9 at the U.S. box office in its opening weekend grossing US$3,657,322.Set in 1913, the film is about golfer Francis Ouimet (Shia LaBeouf), an amateur who was expected to fare poorly at the 1913 U.S. Open, and who was supposedly incapable of competing against professionals.
View page
Trailer
Watch online
I
n the upscale Toronto strip club Exotica, dancer Christina is visited nightly by the obsessive Francis, a depressed tax auditor. Her ex-boyfriend, the club's MC, Eric, still jealously pines for her even as he introduces her onstage, but Eric is having his own relationship problems with the club's owner, Zoe. Meanwhile Thomas, a mysterious pet-shop owner, is about to become unexpectedly involved in their lives. Gradually, connections between the traumatic pasts of these characters are revealed.
View page
Trailer
Watch online
Role in movie: The Policeman
T
his is a remake of the movie "Let The Right One In" which was a movie adaptation of a book. A story of a young boy who is frequently bullied and a young girl that moves in next door with her caretaker. It is established that she is a vampire and, after losing her caretaker, must leave in order to survive. A story of innocent love entangled in murder, mystery, and horror.
View page
Trailer
Watch online
Role in movie: Voice of Val Lewton
M
artin Scorsese narrates this tribute to Val Lewton, the producer of a series of memorable low-budget horror films for RKO Studios. Raised by his mother and his aunt, his films often included strong female characters who find themselves in difficult situations and who have to grow up quickly. He is best remembered for the horror films he made at RKO starting in 1940. Starting with only a title - his first was The Cat People - he would meticulously oversee every aspect of the film's completion. Although categorized as horror films, his films never showed a monster, leaving it all to the viewers imagination, assisted by music, mood and lighting.
View page
Watch online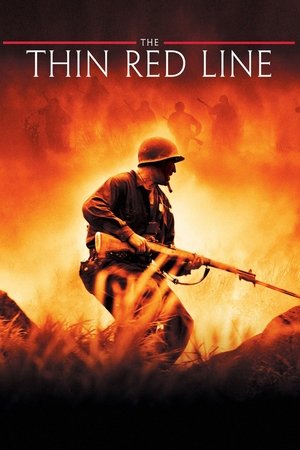 Role in movie: Capt. Staros
B
ased on the graphic novel by James Jones, The Thin Red Line tells the story of a group of men, an Army Rifle company called C-for-Charlie, who change, suffer, and ultimately make essential discoveries about themselves during the fierce World War II battle of Guadalcanal. It follows their journey, from the surprise of an unopposed landing, through the bloody and exhausting battles that follow, to the ultimate departure of those who survived. A powerful frontline cast - including Sean Penn, Nick Nolte, Woody Harrelson and George Clooney - explodes into action in this hauntingly realistic view of military and moral chaos in the Pacific during World War II.
View page
Trailer
W
orld War II soldier-turned-U.S. marshal Teddy Daniels investigates the disappearance of a patient from a hospital for the criminally insane, but his efforts are compromised by his own troubling visions and by Dr. Cawley.
View page
Trailer
Watch online
Role in movie: Monsieur Gateau
Role in movie: Jack Mulanax
B
ased on the actual case files for one of the most intriguing unsolved crimes in America, "Zodiac" tells the story of a serial killer that terrified the San Francisco Bay Area, taunting police with his ciphers and letters. The case becomes an obsession for four men as their lives and careers are built and destroyed by the endless trail of clues.
View page
Trailer
Watch online
From Wikipedia, the free encyclopedia Elias Koteas (born March 11, 1961) is a Canadian actor of film and television, best known for his roles in The Prophecy, Fallen, and the live-action Teenage Mutant Ninja Turtles movies. Description above from the Wikipedia article Elias Koteas, licensed under CC-BY-SA, full list of contributors on Wikipedia.
View page with full filmography
Related articles