List of the 10 best rated episodes from the TV show Felicity from the 84 listed on our webite. Order based on the average from the IMDB and TMDB ratings
F
elicity returns from winter break and tells Noel she wants to have sex, an endeavor that brings about much scheduling, research and preparation; Julie dreads telling Felicity about her new bond with Ben; and Elena wonders how to use a gift from Blair.
View page
Watch online
F
elicity tries desperately to track down Randy and find out what happened between them. During a service call, Noel stumbles across a mass E-mail from the fraternity that includes a naked photo of Felicity and Randy. Noel warns Felicity and advises her to keep the matter quiet until after the surprise birthday party that Ben has organized for her. Richard and Molly inadvertently expose Felicity's secret during the party. Ben storms over the the fraternity house, and Randy's buddies tell him that Randy and Felicity slept together. Randy assures Felicity that they did not have sex; she passed out, so he put her to bed. Ben feels betrayed and refuses to accept Felicity's denial. Sean consults a doctor about swelling in one of his testicles. He insists that it is just an infection, and is reluctant to tell Meghan about his problem. She finally convinces Sean to return to the doctor. He learns that he must undergo surgery to determine if the mass is malignant. Everyone is surprised when Ric
View page
Watch online
O
n her day of graduation, Felicity asks a longtime high school crush, Ben, to sign her yearbook; after she reads his message, in which he says that he would have liked to have known her better, Felicity changes her lifelong college plans to follow Ben to a New York school. There, she meets her quirky (and smitten) resident advisor Noel and her first new friend Julie.
View page
Watch online
A
mono epidemic hits the campus. After Meghan gets sick, Felicity tries to avoid the bug by staying with Elena and Noel. Felicity frets about the fact that David has yet to kiss her. Noel accidentally says Felicity's name while kissing Ruby. Ruby is furious to discover that Noel and Felicity hadn't told her the truth about their past relationship. A stranger offers Ruby a business card, claiming to be a movie producer. She follows up on the lead and ends up getting a major role in a Tom Cruise movie. Ruby sleeps with Noel before departing for several weeks. Ben finds out that Maggie is married.
View page
Watch online
S
ean follows Ben and Felicity with his camera and pesters them to admit their attraction. Greg asks Felicity to manage his campaign for student council president. Felicity is alarmed to discover that she disagrees with Greg's position on virtually every issue. She finds that her views are more in line with her friend Leila's campaign. After Leila's fear of public speaking leaves her ill, Felicity reads her speech to the students. Leila drops out of the race, but urges Felicity to run in her place. Hoping to show Felicity that he has some direction, Ben takes an internship on Wall Street. He spends all of his time babysitting a broker's visiting son. They bond while playing basketball, but the boy hurts his finger. Ben comforts the child as Greg tends to the injury, and Felicity is very impressed. Felicity, with encouragement from Ben, decides to run for student council president. Greg throws a fit and breaks their date to the Sadie Hawkins dance. He later shows up and apologizes. Felic
View page
Watch online
F
elicity counsels an advisee, who is using tips from a magazine article to win the affections of her aloof boyfriend. Ben worries Felicity with his peculiar behavior. He finally reveals that he listened to her tape and cannot deal with the idea that she might love him. Felicity consults the magazine article and tries to get him back. She agrees to be less intense, but suddenly breaks up with Ben because she feels that he expects her to be someone else. She deals with her pain by getting a very short hair cut. Julie throws a big party (with cover charge) at the loft. Elena tries to help Noel get a girl's phone number.
View page
Watch online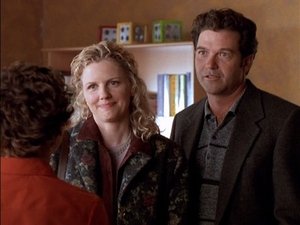 F
elicity's parents arrive unexpectedly for Thanksgiving. She is afraid to tell them about all of the recent changes she has made in her life. The Porters, David and Professor Sherman all end up getting invited to dinner at Noel and Elena's apartment. Meghan shows up in the hopes of seeing everyone get into a fight. Felicity fears that David is becoming too serious about their relationship. Felicity and Noel get drunk from Professor Sherman's punch. They go to his room and reminisce about their kiss the previous Thanksgiving. Professor Sherman walks in on them kissing. An ugly scene develops, leaving Meghan delighted. Felicity breaks up with David. Javier recruits Ben, Julie and Sean to help him cater the Sherwoods' anniversary party. Maggie introduces her husband to Ben, ""the guy I've been sleeping with."" Ben realizes that Maggie was just using him to get back at her cheating husband. Sean and Julie console him as they dine on ""tofurkey."" Meghan forgets a promise to serve dinner to
View page
Watch online
F
elicity asks Randy to talk to Ben and confirm that she didn't have sex with him. A drunken Ben repeatedly punches Randy, sending him to the hospital. Sean confronts Ben about his self-destructive behavior. He tries to convince Ben to attend an art show where Felicity has a work on display. Ben surprises Felicity by purchasing her painting. He tells her that he wants to resume their relationship, as she is the only person he can trust. As Ben leaves the loft, Randy has his frat buddies ambush him and give him a beating. Sean's blood work suggests that he has cancer; doctors must remove the affected testicle and check some lymph nodes to see if the disease has spread. He ignores the doctors and pretends that he is okay. Meghan learns the truth and persuades him to face his problem. Richard tells Noel that he is not gay. He discloses that he is a virgin, and has never kissed anyone. Molly kisses him, but tells him they are only friends. Elena agrees to help Tracy with a group project whi
View page
Watch online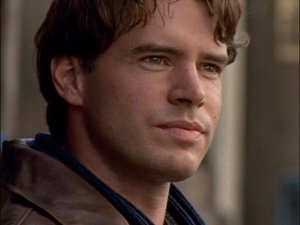 M
eghan tells Felicity that she has concocted a spell to reunite her with Ben. Sean wins a free turkey, but the gang must hold Thanksgiving dinner at Felicity's apartment because Sean has broken the oven. Meghan tries to coax Ben into coming to dinner, but he backs out after Sean explains the circumstances. Ben and Lauren visit Mr. Covington, who has shown tremendous improvement. Lauren convinces Ben to take her to the dinner because she doesn't want to spend Thanksgiving alone. Everyone is shocked to find that Ben has brought a date, although Felicity tries to act as though it doesn't bother her. Javier suggests that he is trying to get back at Felicity for cheating on him, but Ben denies this. Meghan behaves rudely toward Lauren and gets into an argument with Ben. Felicity tries to defend Ben, but he snaps that their relationship was a waste of time. He feels guilty about saying this and leaves. He later returns to apologize, and he and Felicity sleep together. He immediate
View page
Watch online
B
en decides that he wants to play an active role in his child's life. Lauren is pleased; but has already made arrangements to move to Arizona to be near her parents. Ben talks to Professor Hodges about the possibility of transferring to the University of Arizona. Adam's design wins the contest, and Felicity accepts an offer to stay in New York and help with his project. Hodges tells Ben that the deadline for admission has passed, but his friend can pull some strings and get him accepted. He must make his final decision in the next day. Felicity is upset that Ben failed to tell her about his possible move. She tells Adam that she may have to turn down the job. Trevor convinces Ben that Noel is still trying to make a move on Felicity. A tearful Felicity confides in Noel about Ben's situation. Ben catches them in an embrace and becomes angry. He says that he wouldn't have slept with Lauren if Felicity hadn't cheated on him. They break up, and Felicity accepts the job with Adam
View page
Watch online
Felicity is an American prime time television drama series that was created by J. J. Abrams and Matt Reeves and produced by Touchstone Television and Imagine Television for The WB Television Network. Brian Grazer and Ron Howard were executive producers through Imagine Entertainment. The series revolves around the fictional college experiences of the title character, Felicity Porter, as she attends the "University of New York", across the country from her home in Palo Alto, California. The show ran for four seasons from 1998 to 2002, with each season corresponding to the traditional American university divisions of freshman, sophomore, junior, and senior years. A recurring episode opener of the show is a stark camera shot of Felicity sitting in a dormitory room or apartment holding a tape recorder, recalling events in order to make a cassette tape to send to an old friend named Sally Reardon. This occasionally provides a method for Felicity to narrate an entire episode. At the end of episodes like this, Felicity is often shown to be listening to a tape that Sally has sent in reply. In 2007, Felicity was listed as one of TIME magazine's "100 Best TV Shows of All-TIME." AOL TV named Felicity one of the "Best School Shows of All Time." In June 2010, Entertainment Weekly named Felicity Porter one of the "100 Greatest Characters of the Last 20 Years".
Related articles