List of the 10 best movies directed by Andrew Lau Wai-Keung, order based on the average from the IMDB, TMDB and Rotten Tomatoes ratings
C
han Ho Nam and Chicken are back again in Young and Dangerous 3, this time taking on the rival "Tung Sing" triad, who is attempting to usurp Hung Hing influence in Hong Kong by having Tung Sing member "Crow" (Roy Cheung) frame Ho Nam for the murder of Hung Hing Chairman Chiang Tin Sang (Simon Yam). On the plus side, Chicken finds a new love interest in Wasabi (Karen Mok), the daughter of the comedic priest, Father "Lethal Weapon" Lam.
View page
Watch online
B
orn to Be King, also known as Young and Dangerous 6, is the last and final installment to the mainstream franchise and characters. This film is a return to form for the series with what is considered a fitting end by fans. Chicken is set to marry Nanako (Anya), the daughter of Japanese yakuza boss Isako Kusaraki (Sonny Chiba), to tie relationships between the Taiwanese San Luen triad and Kurasaki's clan. When Chicken is set up and framed again for murder, he seeks his old friends from Hung Hing to clear his name.
View page
Trailer
Watch online
I
nfernal Affairs III is a 2003 Hong Kong crime thriller film directed by Andrew Lau and Alan Mak. It is the third installment in the Infernal Affairs film series, and is both a sequel and a semi-prequel to the original film, as it intercuts events before and after the events in the original.
View page
Watch online
T
wo brothers Ah B and Dee live in two different worlds. Ah B decided to quit his smuggling business for a new life. He opens a nightclub to put his younger brother's singing talent in the limelight. Confrontation and fighting in the club at a singing contest unfolds drug deals of partners of Ah B. Innocently involved in the smuggling case Ah B is sentenced for a long-term jail. Misunderstandings override love of the siblings. As time goes by, in the name of love can the two brothers live under the same sky?
View page
Watch online
I
n this prequel to Mou gaan dou (2002), Chan Wing Yan has just become an undercover cop in the triads while Lau Kin Ming joins the police force. Both the triads and the police find an enemy in a rival crime boss.
View page
Watch online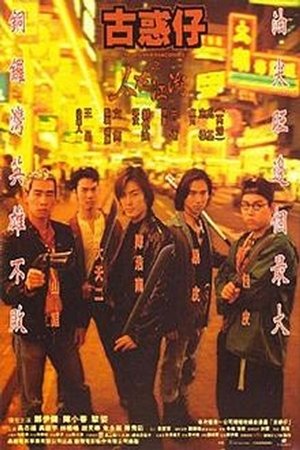 A
ndrew Lau Wai-keung spins this mobland thriller adapted from Niu Lo's cult comic book Cow Man. The film opens with members from the Hung Hing Society whacking another gangster from a rival group who is deep in debt. A comrade with the slain man, sociopathic crime boss Ugly Kwan (Francis Ng Chun-yu) vows revenge and sets his sites on Hung Hing members Chan Ho-nam (Dior Cheng Yee-kin) and Chicken Chiu (Jordan Chan Siu-chan). The two are spirited away to Macau only to be jumped by Kwan's henchmen. Chan's friend is killed while Chan is captured, drugged, and shot on tape having sex with Chicken's girlfriend. Crushed by his friend's perceived betrayal, Chicken leaves for Taiwan while Chan is punished by his gang. Meanwhile, Kwan plots to take over the Hung Hing Society.
View page
Watch online
A
n elite Interpol agent Jeong-woo and a ruthless hitman Park-yi, both stationed in Amsterdam and are in love with the same young woman, Hye-young. Hye-Young is a simple sidewalk artist, with dreams of one day holding a real exhibition in a real gallery. Her pure love will draw these deadly men into a spectacular showdown in the process, revealing Hye-Young¡¯s hidden past.
View page
Trailer
Watch online
C
han Wing Yan, a young police officer, has been sent undercover as a mole in the local mafia. Lau Kin Ming, a young mafia member, infiltrates the police force. Years later, their older counterparts, Chen Wing Yan and Inspector Lau Kin Ming, respectively, race against time to expose the mole within their midst.
View page
Trailer
Watch online
From Wikipedia, the free encyclopedia. Andrew Lau Wai-Keung (born 4 April 1960) is a Hong Kong cinematographer and filmmaker. Lau began his career in the 1980s and 1990s, serving as a cinematographer to filmmakers such as Ringo Lam, Wong Jing and Wong Kar-wai. In the 1990s, Lau decided to have more creative freedom as a cinematographer by becoming a film director and producer. Apart from making films in his native Hong Kong, Lau has also made films in China, Korea and the United States. A highly prolific filmmaker, Lau has made films in a variety of genres, and is most notable in the West for his action and crime films which include the Young and Dangerous film series, and the Infernal Affairs trilogy (the latter co-directed together with Alan Mak). Description above from the Wikipedia article Andrew Lau, licensed under CC-BY-SA,full list of contributors on Wikipedia.
View page with full filmography
Related articles