List of the 10 best movies starring Basil Rathbone, order based on the average from the IMDB, TMDB and Rotten Tomatoes ratings
Role in movie: Norman Cass, Sr.
F
rank Skeffington is an old Irish-American political boss, running for re-election as Mayor of of a US town for the last time.
View page
Watch online
Role in movie: Sherlock Holmes
P
rofessor Moriarity has a scheme for stealing the crown jewels from the Tower of London. To get Holmes involved, he persuades a gaucho flute player to murder a girl.
View page
Watch online
Role in movie: Baron Wolf von Frankenstein
W
olf Frankenstein, son of Henry Frankenstein, returns with his wife, to his fathers estate to claim his inheritance. When he arrives with his family he recieves a hostile reception from locals. While exploring his fathers laboratory he comes across crooked blacksmith - Ygor, who asks him to revive his father's creation - the MONSTER who is lying in a coma. Wolf tries to revive the monster and believes he fails but then some of the locals are found murdered soon after who just happened to be part of the jury that sent Ygor to the gallows. The villagers immediately connect the killings to Frankenstein and send the inspector to investigate. He discovers the monster is alive and is being used as tool by Ygor. Wolf then in fit of madness shoots Ygor. The then enraged monster losing his only friend kidnaps Wolf's son. In the end Wolf tracks the monster to the lab where he swings down on a chain knocking the monster into a sulpher pit and thus his demise.
View page
Trailer
Watch online
Role in movie: George Adams
A
big splash in her first starring role: Esther Williams is a teacher at a women's college -- and wacky Red Skelton enrolls to be near her. An astonishing flames-and-fountains aquatic finale.
View page
Trailer
Watch online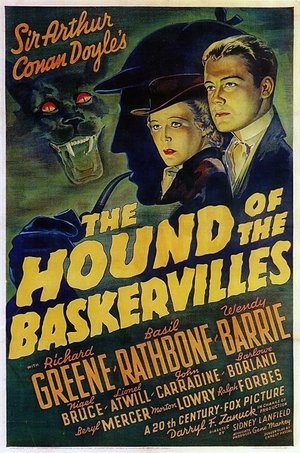 Role in movie: Sherlock Holmes
O
n his uncle's death Sir Henry Baskerville returns from abroad and opens up the ancestral hall on the desolate moors of Devonshire. Holmes uncovers a plot to have Sir Henry murdered by a terrible trained hound. First casting of Rathbone and Bruce as Holmes and Watson.
View page
Trailer
Watch online
Role in movie: Sir Ravenhurst
A
12th century court jester in England becomes involved with a desperate band of outlaws who are attempting to overthrow the king.
View page
Trailer
Watch online
Role in movie: Captain Esteban Pasquale
A
round 1820 the son of a California nobleman comes home from Spain to find his native land under a villainous dictatorship. On the one hand he plays the useless fop, while on the other he is the masked avenger Zorro.
View page
Trailer
Watch online
Role in movie: Michael Michailow
V
era Kowalska (Kay Francis) is put on trial for murdering the pianist Michael Michailow (Basil Rathbone), who was having an affair with a young music student, Lisa Koslov (Jane Bryan). In court it is shown that some years ago Michael had seduced Vera, ruining her marriage.
View page
Watch online
Role in movie: Sir Guy of Gisbourne
R
obin Hood (Errol Flynn) fights nobly for justice against the evil Sir Guy of Gisbourne (Basil Rathbone) while striving to win the hand of the beautiful Maid Marian (Olivia de Havilland).
View page
Trailer
Watch online
From Wikipedia, the free encyclopedia. Sir Basil Rathbone, KBE, MC, Kt (13 June 1892, Johannesburg – 21 July 1967, New York City) was a South African actor. He rose to prominence in England as a Shakespearean stage actor and went on to appear in over 70 films, primarily costume dramas, swashbucklers, and, occasionally, horror films. He frequently portrayed suave villains or morally ambiguous characters, such as Murdstone in David Copperfield (1935) and Sir Guy of Gisbourne in The Adventures of Robin Hood (1938). His most famous role, however, was heroic—that of Sherlock Holmes in fourteen Hollywood films made between 1939 and 1946 and in a radio series. His later career included Broadway and television work; he received a Tony Award in 1948 as Best Actor in a Play. Description above from the Wikipedia article Basil Rathbone, licensed under CC-BY-SA, full list of contributors on Wikipedia.
View page with full filmography
Related articles