List of the 10 best rated episodes from the TV show Alfred Hitchcock Presents from the 148 listed on our webite. Order based on the average from the IMDB and TMDB ratings
H
arry Adams is pulled over by a police officer named Pete Chandler. Pete says Harry was speeding and insists that Harry follow him into town. As they travel, they discover that Harry has a flat tire. A tow truck appears out of nowhere and takes Harry's car into town. When they get into town Pete must pay a large fine for speeding. He must also pay a large bill for car repairs. As Harry drives away he is revealed to be from the State Highway Commission. He has the entire scam recorded on tape.
View page
Watch online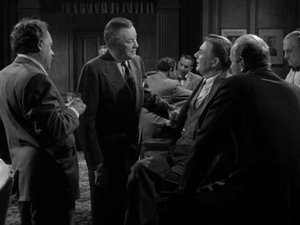 C
olin Brackner is an elderly actor who invites a playwright Adam Longsworth and his wife over to dinner. During dinner Colin talks about a long lost love. The tale deeply effects both Adam and his wife practically reducing them to tears. Colin reveals that the tale is a deception. Recognizing the talent needed to pull off such a deception, Adam invites Colin to be part of his new production.
View page
Watch online
S
teve and Judy Archer are having money problems. When Judy's first husband Harry died of a heart attack, Judy collected on a large insurance police Steve sold him. Judy and Steve were then married and Steve quit his job, but later squandered most of Judy's money. The couple discovers that Harry bought a winning Sweepstakes ticket. Unfortunately, the winning ticket is in his pocket and he is buried six feet under. Judy wants to dig up the corpse, but Steve doesn't. Judy gets help from a reporter who digs up the body and finds the ticket. Later the reporter reveals himself as an insurance detective. He believes Harry was murdered, possibly by Steve. Later while Judy is in the bath, Steve returns and takes the winning ticket. He throws an electric heater in the bathtub. Judy screams and Steve runs, right into the arms of the waiting police. Judy emerges from the bathroom unharmed. The detective removed the fuse so she was not electrocuted. As Steve is led away by the police, Judy takes th
View page
Watch online
W
illiam Callew is a hard hearted and stoic businessman who believes that any display of emotion is a sign of horrible weakness. William gets into a car accident during a drive to New York. He regains consciousness only to find himself completely paralyzed. Everyone who sees his body presumes that he is dead. His body is taken to the morgue where a coroner examines him and concludes that he is dead. In desperation and hopelessness, Callew begins to cry. Someone notices and he is saved.
View page
Watch online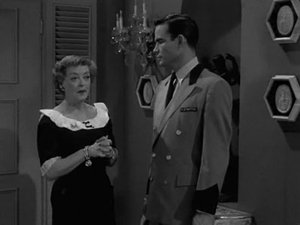 E
ddie McMahon in in dire need of money. He asks a rich woman named Miss Fox for a load. She refuses. Later when Miss Fox is walking her dog she is mugged and almost killed. She did not get a good look at her attacker, but she suspects Eddie and tells the police. The police arrest eddie and he is sent to prison. A year later, the real mugger is caught and Eddie is released from prison. Eddie goes to see Miss Fox and she offers him five dollars for the trouble she put him through. He takes it. Later Miss Fox walks her dog and is mugged once again. She is strangled and kill. The mugger is Eddie. He throws the five hundred dollars down next to the body and walks away.
View page
Watch online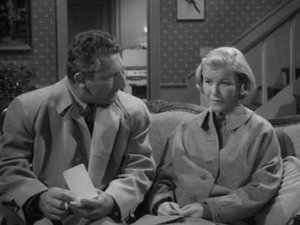 M
ary Maloney is a devoted wife and an exceptional housekeeper. One day, he husband, the police chief, announces that he wants a divorce because he has met another woman. Mary is quite angy and kills him with a blow from a frozen leg of lamb. She calls the police and provides and alibi for herself with the story that she'd been out to the store when the murder took place. The investigating officer, Lieutenant Noonan is further frustrated when he cannot to find the murder weapon. Knowing of the long and hard hours spent looking into the case, Mary invites Noonan to the other investigators for a bite to eat. They dig into Mary's leg of lamb and Noonan still thinking about the missing murder weapon says ""For all we know, it might be right under our very noses.""
View page
Watch online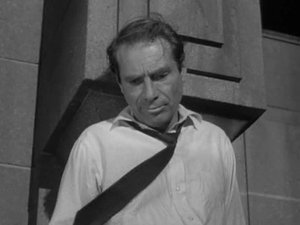 C
arl climbs onto a ledge at a New York apartment and threatens to jump. Policemen arrive and learn that Carl wants to jump because his wife committed suicide after running off with a man named Steve. One of the policemen comes out onto the ledge to try to pull him back in. Unfortunately, this was part of Carl's plan. The policeman is Steve and Carl promptly pushes him off.
View page
Watch online
W
hile cleaning out the apartment of he dead sister Julia, Jim Whitely comes across a strange glass eye and tells to his wife the story of how his sister acquired it. Julia had fallen in love with a famous ventriloquist name Max Collodi. She has been to all his performances and has sent letters requesting to meet him. One day, Max agrees to meet her. She comes to his hotel room and finds him sitting in darkness with his small dummy George. As they talk, Julia tries to touch Max. She screams as his body falls to the floor and one of his glass eyes falls rolling on the carpet. George stands and angrily asks her to leave. It was Max who was the dummy and George was the ventriloquist.
View page
Watch online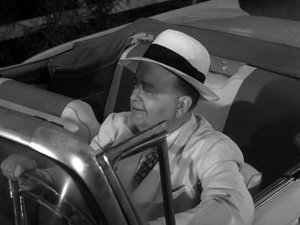 M
r. Waterbury in interested in buying a high priced hosue. Sadie Grimes, the house's owner, invites Waterbury in for a drink. She says the price is nonnegotiable. The place has strong sentimental value for Sadie: her son was killed there with a mysterious bag that has since never been found. She believes the bag contained money which is hidden somewhere in the house. Waterbury says he will buy the house despite its inflated price. Sadie accuses him of being her son's murderer. Waterbury confesses that he is the murderer, but he slumps over dead. His drink had been poisoned.
View page
Watch online
Alfred Hitchcock Presents is an American television anthology series hosted by Alfred Hitchcock. The series featured dramas, thrillers, and mysteries. By the time the show premiered on October 2, 1955, Hitchcock had been directing films for over three decades. Time magazine named Alfred Hitchcock Presents one of "The 100 Best TV Shows of All-TIME". A series of literary anthologies with the running title Alfred Hitchcock Presents were issued to capitalize on the success of the television series. One volume, devoted to stories that censors wouldn't allow to be adapted for the TV series, was entitled Alfred Hitchcock Presents: Stories They Wouldn't Let Me Do on TV—though eventually several of the stories collected were adapted.
Related articles