List of the 10 best rated episodes from the TV show American Dad! from the 209 listed on our webite. Order based on the average from the IMDB and TMDB ratings
S
tan loses his confidence, and his job, when a car salesman gets the best of him in a negotiation. Meanwhile, Roger and Steve set up a makeshift drive-in to try to get to first base with popular schoolgirls.
View page
Watch online
W
hen Stan catches Steve playing imaginary games with his toys, he decides to take his son down to Mexico to help him become a man. But the trip takes a turn for the worse when Stan and Steve are kidnapped by a drug cartel, and it's up to Steve to break himself and Stan out of captivity.
View page
Watch online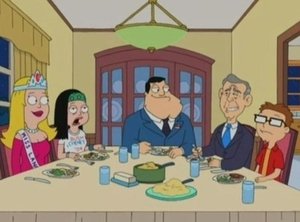 W
hen Stan enters an essay contest to have his personal hero, President Bush, come over for dinner, he is overcome with joy when the President arrives at his doorstep. However, not everyone in the Smith family shares Stan's excitement. Hayley tries to drill President Bush on the Iraq war, and Steve and Roger attempt to convince him that they've found Osama Bin Laden, but instead get him drunk. Stan tries to save the President from public humiliation, while Hayley revels in his fall from glory.
View page
Watch online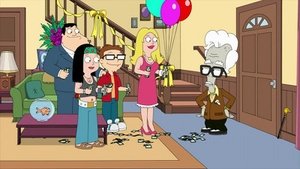 R
oger announces that Max Jets, a character who showers the Smith family with money, is making a return; a gold-digging waitress romances Max and threatens the family's inheritance.
View page
Watch online
W
hen Stan discovers that everyone in the neighborhood hates him, he uses his CIA connections to have them evicted. Roger and Steve discover the perks of working together as scam artists.
View page
Watch online
U
pset that Hayley no longer wants his advice, Stan decides to prove that she is missing out on his sage counseling. After meeting a stripper on an important CIA mission, Stan takes it upon himself to improve her life and show Hayley that his advice works. But when he opens a new business, hoping to prove Hayley wrong, he finds himself dancing for cash to cover up his failures.
View page
Watch online
W
hen Stan wishes he could have Principal Lewis' carefree, single life, a la "It's a Wonderful Life," his wish comes true. In Stan's wish world, Principal Lewis has his family.
View page
Watch online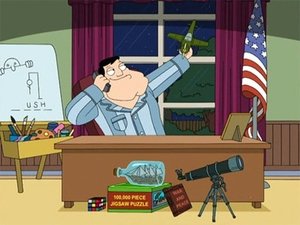 S
tan is ecstatic when a co-worker gives him pills that allow him to stay up all night but feel like he slept for eight hours.
View page
Watch online
W
hile on vacation in Los Angeles, Stan joins the world of old Hollywood. Meanwhile, Roger kennel-trains Steve and Hayley.
View page
Watch online
The series focuses on an eccentric motley crew that is the Smith family and their three housemates: Father, husband, and breadwinner Stan Smith; his better half housewife, Francine Smith; their college-aged daughter, Hayley Smith; and their high-school-aged son, Steve Smith. Outside of the Smith family, there are three additional main characters, including Hayley's boyfriend turned husband, Jeff Fischer; the family's man-in-a-goldfish-body pet, Klaus; and most notably the family's zany alien, Roger, who is "full of masquerades, brazenness, and shocking antics."
Related articles