List of the 10 best rated episodes from the TV show Gilmore Girls from the 154 listed on our webite. Order based on the average from the IMDB and TMDB ratings
R
ory lands her dream job as a political reporter in Ohio. Luke enlists the help of everyone in Stars Hollow to throw her a graduation party in order to say goodbye. Luke's thoughtfulness brings out a long-awaited reaction from Lorelai.
View page
Watch online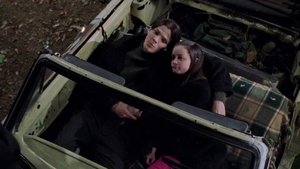 L
uke's ex-girlfriend Rachel arrives in Stars Hollow unexpectedly, and immediately picks up on the attraction between Luke and Lorelai, which they deny. Rachel decides to stay for awhile, which leaves Luke and Lorelai with mixed feelings. Lorelai and Rory are amazed when Emily agrees to excuse Rory from Friday night dinner so that Rory and Dean can celebrate their three month anniversary. When Lorelai arrives for dinner, she discovers the source of Emily's largesse -- her mother has invited another guest -- a man with whom she secretly hopes to fix Lorelai up. After a painful dinner with one of the world's most boring men, Lorelai attempts to escape through the window of her old bedroom, but is caught in the act by Richard. When he is forced to admit that even he is bored by the man, he uncharacteristically covers for her and lets her make her getaway. Back in Stars Hollow, Dean treats Rory to a wonderfully romantic dinner, and then gives her a present -- a car that he's restoring for h
View page
Watch online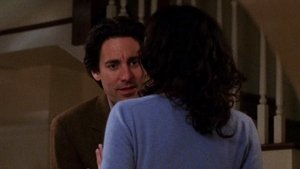 T
he first snow of the season falls heavily, stranding Rory at Emily and Richard's house and their cook at home, leaving Rory to make dinner and introduce her grandparents to the joys of frozen pizza with extra cheese. Luke is obsessing about the silliness of the re-enactment of the Battle of Stars Hollow in the town square, which basically consisted of twelve men who stood waiting all night for Redcoats who never arrived. He finally relents and makes amends to all by bringing them coffee. Lorelai is enjoying a walk alone in the snow when she comes upon Max, whose car has died in Stars Hollow on the way home from Stamford. She whisks him off for fiesta burgers and the movies, and they have a marvelous time on their first date. Luke gets a very pained expression on his face as he sees them walk through town arm-in-arm and kiss. When they arrive at Lorelai's house, their passionate embraces are interrupted by a distraught Lane, who was waiting there for Rory. Lorelai has a heart-to-heart
View page
Watch online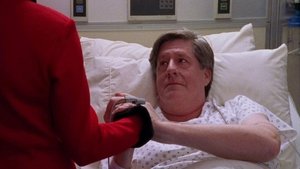 T
hings are still chilly between Rory and Lorelai; Lane gives Rory advice about the right Christmas gift for Dean; Emily and Lorelai have a tiff about Christmas dinner, leaving Rory to go by herself; Dean and Lorelai patch things up; Luke makes a lonely Lorelai a Santa burger; Richard collapses and is rushed to the hospital; Luke gives a car-less Lorelai a ride to the hospital; relieved that Richard's collapse was only a bout of angina, the Gilmores settle their differences.
View page
Watch online
T
his is the second episode of the WB hit series Gilmore Girls. It is written by Amy Sherman-Palladino and directed by Arlene Sanford
View page
Watch online
T
his is the series premiere of the television series Gilmore Girls. After Rory is accepted to the prestigious Chilton Preparatory School, Lorelai is forced to go to her wealthy parents for financial assistance. Her parents happily loan their daughter the money in exchange for an end to the estrangement and a family dinner every Friday night. Unfortunately, things hit a snag when a cute new transfer student flirts with Rory, leading the younger Gilmore to wonder whether leaving Stars Hollow High is really what she wants.
View page
Watch online
I
t's Rory's birthday, and her grandmother and mother each plan a party representative of their respective styles; Emily's elegant party so discomfits Rory that they argue; to make peace, Emily and Richard attend Lorelai's informal bash the next evening.
View page
Watch online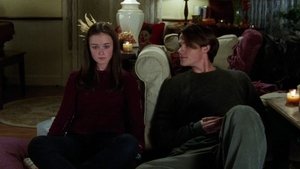 D
ean gives Rory her first kiss; fearful of her mother's disapproval, Rory decides not to tell Lorelai for a little while; Lorelai gets stressed when she hears about the kiss from Mrs. Kim instead of Rory; Rory freaks out at first when Lorelai invites Dean over to watch videos and eat junk food, but ends up having a good time after all.
View page
Watch online
D
uring dinner at her mother's, Lorelai finds out that not only is there a formal dance at Chilton, but that Rory doesn't want to go. On the way home, Lorelai convinces Rory that she needs to have this experience, and even offers to make Rory a dress. Lane prods Rory into asking Dean to go, and she nervously does. Even though he says he doesn't really like dances, he agrees to go with Rory. When Emily arrives at Lorelai's the night of the dance to see Rory off and take some pictures, she finds that Lorelai has thrown her back out. She decides to stay and to take care of Lorelai,and they manage to get in some nice mother-daughter bonding during the course of the evening. The dance starts off well; Rory's dress is complimented, Dean is admired, and Paris is embarrassed when everyone finds out that her date is her cousin and that he insisted upon being paid to escort Paris. Unfortunately, Tristan baits Dean, and they almost get into a fight before Dean warns him never to come near Rory aga
View page
Watch online
P
aris wreaks her revenge after Tristan lies about going to a concert with Rory; Rachel leaves Stars Hollow after she becomes convinced that despite his protests, Luke is in love with Lorelai; Rory's defense of the Stars Hollow troubadour during a town meeting brings her back together with Dean, enabling her to finally say, and mean, the words that he's been longing to hear; Luke and Max meet and engage in a little not-so-friendly rivalry as Max begins to suspect, despite her protests, that Lorelai and Luke were once an item; Max proposes to Lorelai with a thousand yellow daisies.
View page
Watch online
Gilmore Girls is an American comedy-drama series created by Amy Sherman-Palladino, starring Lauren Graham and Alexis Bledel. On October 5, 2000, the series debuted on The WB to widespread critical acclaim and remained a tent-pole to the WB until it was cancelled in its seventh season, ending on May 15, 2007 on The CW. The entire series has been released on DVD, as well as on iTunes. The show follows single mother Lorelai Gilmore and her daughter, also named Lorelai but who prefers to be called Rory, living in the fictional town of Stars Hollow, Connecticut, a town filled with colorful characters, located approximately 30 minutes from Hartford, Connecticut. Ambition, education, and work constitute part of the series' central concerns, telling Lorelai's story from pregnant teen runaway and high school dropout to co-owner and manager of the Dragonfly Inn. Rory's transition from public school to the prestigious Chilton is similarly followed, exploring her ambition to study at an Ivy League college and to become a foreign correspondent. The show's social commentary manifests most clearly in Lorelai's difficult relationship with her wealthy, appearances-obsessed parents, Emily and Richard Gilmore, and in the interactions between the students at Chilton, and later, Yale University.
Related articles